When customers purchase an item online, this creates a chain of events which turn that click into a parcel arriving at their door.
Known as ecommerce fulfilment, the term covers various steps to ensure customers receive the correct items within a timely manner when they purchase goods online. Plus, effective commerce fulfilment also helps businesses to keep track of their day-to-day operations more easily. Whether you're running a start-up ecommerce company from home or own warehouse space, every business which sells products online needs an effective fulfilment strategy. 
So here is an overview of what the ecommerce fulfilment process involves.
Receiving
When customers click to purchase an item, that item then makes its way to their address. But before that happens, the first stage is actually for the ecommerce business to make or receive their goods. That's because unless items are in stock, they cannot be fulfilled as an order to customers. 
Unless items are manufactured by the business, items will typically arrive at a fulfilment centre having been shipped either from external manufacturers or suppliers of the goods. Items should be checked and inspected when they arrive at the fulfilment centre. Doing so not only confirms the items are correct, but that they meet the expected standard of quality. 
For instance, if items with defects are shipped to customers, this would create a poor customer experience and could harm the business's reputation.
Once the items have been checked, the quantities need to be recorded in the inventory systems which will then display available stock levels.
Inventory Management
When inventory is manufactured or shipped to the fulfilment centre, it needs to be processed and stored.
Effective processing not only helps with managing stock levels but also maximises available space on shelving and racks. In addition, an effective storage system improves safety along with ease of order processing.
Order Processing
When a customer places an order, the items need to be located, picked and packed ready for shipping.
Therefore, order processing covers all steps between the customer ordering their chosen item(s) and their order being prepared so that it is ready to leave the fulfilment centre.
Shipping And Delivery
The packaged items have the customer's address attached so that the shipment is ready to be delivered to the customer. Typically, external shipping and delivery carriers are used, unless the business delivers locally or has the capabilities to handle their own shipping (i.e. Amazon). However, if using an external delivery company, customer satisfaction with the products and the business as a whole relies on a great delivery experience. 
For instance, items arriving as expected, plus having trackable updates so that customers know the date and time when items will arrive.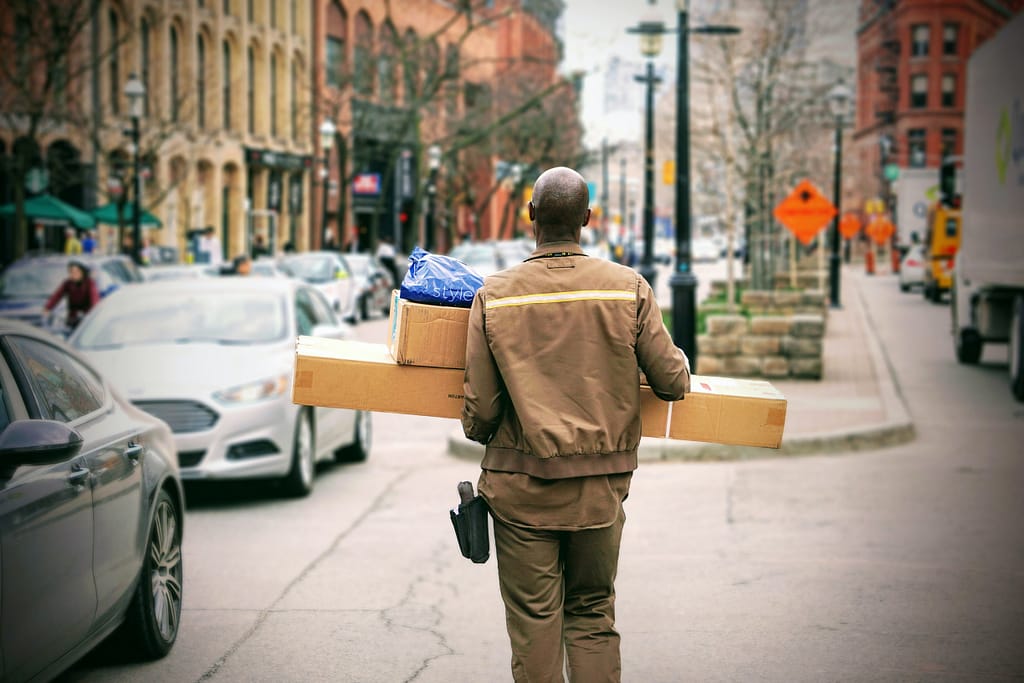 Returns Processing
Not every order will be subject to returns processing. However, where customers do request to return their items, returns processing is the final step of ecommerce fulfilment.
When an item is returned, that item needs to be received and inspected. If the item is going back into the inventory, then this needs to be reflected in the stock levels. Last but not least, customers need to be refunded or have item exchanges issued. 
It's also worth recapping that if items are returned due to damage or defects, then this can indicate issues either with the receiving or shipping and delivery processes. Identifying and remedying such problems can save businesses money while improving overall customer satisfaction.
Imaginaire – Ecommerce Website Design & Marketing UK
Now you understand how ecommerce fulfilment works, is it time your ecommerce website was updated?
Imaginaire is a UK-based digital marketing agency, and one of our key specialisms is ecommerce web design and development.
For any help or advice on all things ecommerce websites drop us a message or give us a call on 0115 697 1541.