Our ecommerce websites perform above industry benchmarks
Ecommerce Website Design from an agency that considers your growth
Our recent work
Some of our latest and greatest ecommerce projects
Find out what's holding your store back
Get a free conversion audit
Would you like some free tips on the kinds of things we'd do to improve the conversion rate of your store?
Get in touch today and one of our consultants will take a look through your website to highlight:
Areas for improvement from a conversion rate perspective
Any technical SEO issues
Some ideas for how we'd improve your website
Some ideas of our marketing strategy for your site
"*" indicates required fields
Helping you sell more effectively online
Get an ecommerce store that converts, is easy to manage and that looks great
Choose Imaginaire as your ecommerce website design agency and gain access to our team of specialist designers, developers and digital marketers. We have over 15 years of experience when it comes to ecommerce, we know what works. You'll benefit from an agency that doesn't just think about design when it comes to your store, we also think about how to build it effectively to maximise its SEO potential.
If you have a new brand which you'd like to launch an ecommerce for, or if you already have a website, but you'd like to re-design and rebuild it, we'd love to help.
Our team specialise in ecommerce and, as a hybrid agency that owns its own ecommerce brands, we think our skin in the game helps us make more informed decisions when it comes to ecommerce designs and builds.
We specialise in building on the Woocommerce platform, giving you easy content editing as well as a scalable hosting solution that grows with you at a much lower cost than comparable platforms such as Magento. We also work with Shopify and are seeing more and more projects desiring this platform.
You'll benefit from a small, in-house team that is dedicated to your project. We don't outsource our work, meaning that you get to work directly with the person designing your website and the person developing it.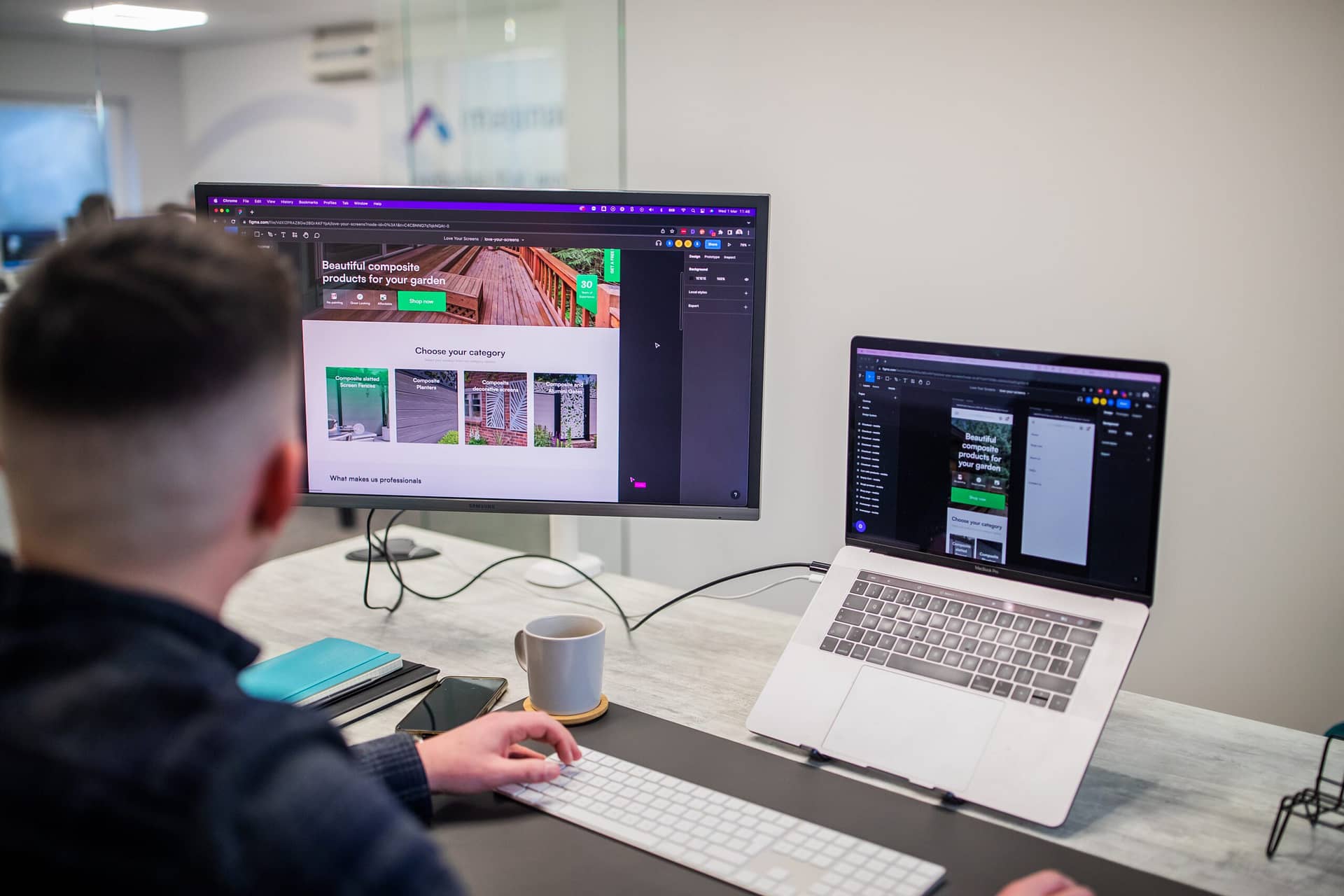 How we help
We pride ourselves on being able to offer a one-stop shop when it comes to your ecommerce needs.
Design
Our ecommerce design team will create designs that convert well, present your products beautifully and offer unparalleled usability.
Development
Our development team build secure, fast and SEO friendly ecommerce solutions that help you generate more revenue.
Marketing
Once your website is built, our search marketing team can help you climb the rankings with SEO as well as implementing PPC campaigns.
Why an ecommerce from Imaginaire is a bit different
Looks

We've won awards for our ecommerce design work and we want all of our websites to win them. We'll put everything into making your store look amazing so that it converts strongly.

Speed

Our ecommerce stores ship with a mobile pagespeed score of over 90, meaning your customers aren't left waiting around for it to load. Slow sites are one of the biggest conversion killers!

SEO

Our websites are built for search. We implement all of the best practices for search engine optimisation with every website we build and we offer ecommerce SEO as a monthly service.

Fixed Prices

We charge based on the features that you want at the start of the project. No nasty surprises, just super simple transparent itemised pricing.
An ecommerce website design agency that helps you grow
We've been in business since 2014 and, in that time, have developed an understanding of what works and what doesn't work when it comes to ecommerce websites. We don't base our recommendations on our personal preferences or opinions, we base them on what the data has said over the years.
Specifically, we focus on building you a store that looks great, shows off your products and that will convert well.
Hopefully you'll also want us to help out when it comes to your search marketing strategy. If this is the case, we can help you implement PPC campaigns (including Google Shopping) and an SEO campaign to help put your new website in front of as many people as possible.
The latest ecommerce news
Find out about everything that's happening in the world of ecommerce with our actionable articles designed to help you grow.
View all articles
Get a quote for your ecommerce project
As seen in