LinkedIn has 930 million users. If that wasn't already impressive, research has found that four out of five LinkedIn members have the power to influence business decisions.
So for any company wanting to create effective digital marketing campaigns (especially B2B campaigns), LinkedIn makes for a solid choice.
As a digital marketing agency, we can launch LinkedIn ads as part of a social media marketing strategy or for PPC campaigns.
To understand a little more about how LinkedIn ads work, plus how they can help your business succeed online, we've put together the following guide. 
Read more: using LinkedIn for Business
Types Of LinkedIn Ads
Depending on what your business offers and who you're looking to target with your campaigns, it's good to know that LinkedIn ads provide plenty of options.
This level of customisation also helps you monitor not just how your campaigns visually appear on feeds, but also how much you spend on them.
Sponsored Content
Sponsored content can consist of videos, images or text which promote your brand. In fact, if you scroll through your feed right now, you'll likely see a random 'promoted content' post pop up.
When you click on 'Why am I seeing this ad?' as a user, LinkedIn displays a message saying 'You're seeing this ad because your profile and activity matches the intended audience of [company name]'.
So from the perspective of an advertiser, you can select your audience for your sponsored content, based on the types of people you think would most be interested in your products or services. Alongside industry or job title, you can select from location and similar aspects.
Sponsored Mail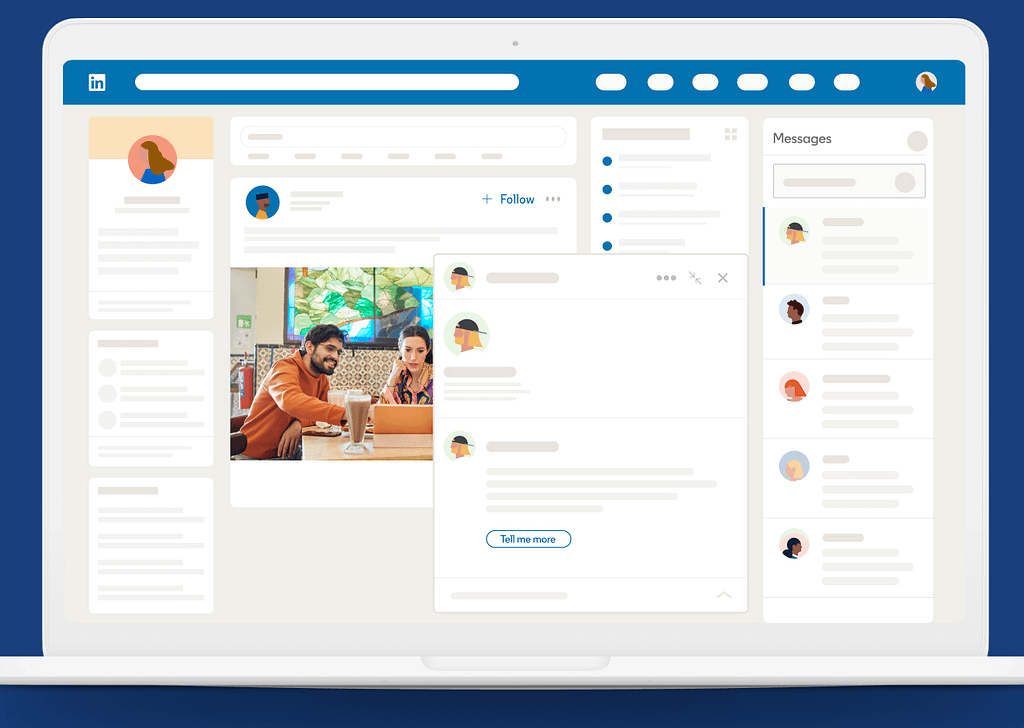 Sponsored mail works much the same as sponsored content, although your campaigns will go straight into users' inboxes rather than appearing on their LinkedIn feeds.
Often, sponsored mail is used for recruitment or 'InMail' collaborations. So, if you're looking for a new hire, or even if you want to do business with relevant people, sponsored mail can be just the trick.
As sponsored mail sends a personal message, this helps improve the chances that your message will be read. Although, companies also have to be mindful that the messaging appears both relevant and genuine.
Text Ads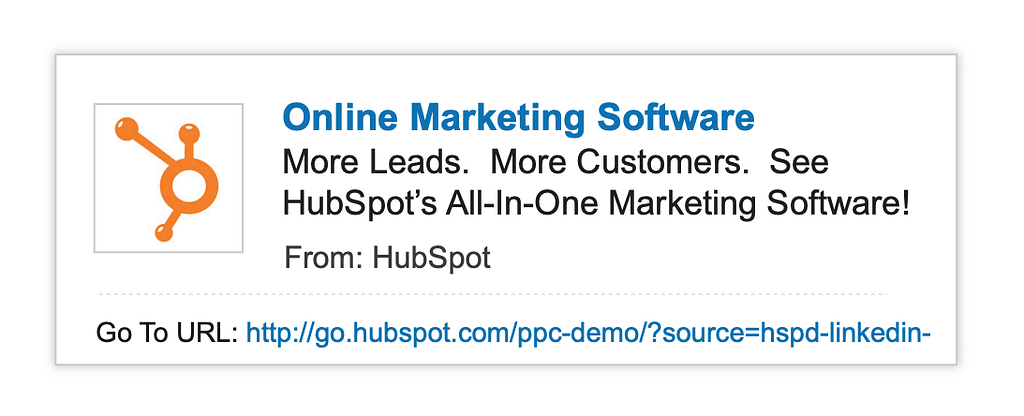 Text ads appear as a standard PPC (pay-per-click) campaign. As the name suggests, they mostly use simple plain text accompanied by an icon to convey messaging on LinkedIn.
The above image was taken from a HubSpot LinkedIn text ads case study. HubSpot cited the need to "precisely target its campaigns beyond simply just location, keywords, and interests, drilling down into specific professional attributes of its potential customers – a capability that other social networks do not provide" as a reason for opting for LinkedIn text ads specifically.
It's clear to see that when done well, text ads are simple yet effective. They might not feature glossy video campaigns. However, with optimised text, targeted advertising and a link to the product, they can work very well for any campaign.
Dynamic Ads
LinkedIn ads are customisable to a specific LinkedIn member. So if you're a fan of segmenting your campaigns, dynamic ads make for a great option.
When creating your ad, you can select from some of the following requirements:
Brand awareness
Website visits
Engagements
Video views
Lead generation
Job applicants
The dynamic ad will usually feature some kind of CTA or clickable function, to allow any of the above objectives to be achieved. A major advantage here is that a dynamic ad is both targeted and highly attention-grabbing.
Imaginaire Digital Marketing – Set Up LinkedIn Ads For My Business
For any business wanting to start advertising on LinkedIn, or even improve on previous efforts – you're in the right place!
As a digital marketing agency, Imaginaire will work with your business to create a winning strategy based on your goals. We're based in Nottingham but work with clients across the UK and beyond.
To discuss more about LinkedIn ads, or any of our other services, please drop us a message, or give us a call on 0115 697 1367.