Google Analytics 4 (GA4 for short) is Google's latest analytics platform. As a website owner wants to get found on Google, being connected to the search engine's analytics platform makes sense. 
That's because, on Google Analytics 4, you can see user insights to understand more about your web traffic. For instance, how many visitors your website is getting, and where these visits originate from. If you don't pay much attention to your Google Analytics account, you might not be aware that the switch to GA4 is imminent. So that you don't lose any tracking information, here is how to implement Google Analytics 4 for your website. Plus, a little more info to help you understand GA4 in greater detail. 
When Does Google Analytics 4 Start?
Although Google Analytics 4 first launched in 2020, the switch will become mandatory on July 1st, 2023. At this point the existing version of Google Analytics will be phased out.
Crucially, website owners need to make the manual switchover to Google Analytics 4, or risk losing analytical data. That's because the previous version of Google Analytics will stop collecting data as soon as GA4 officially launches.
How To Implement Google Analytics 4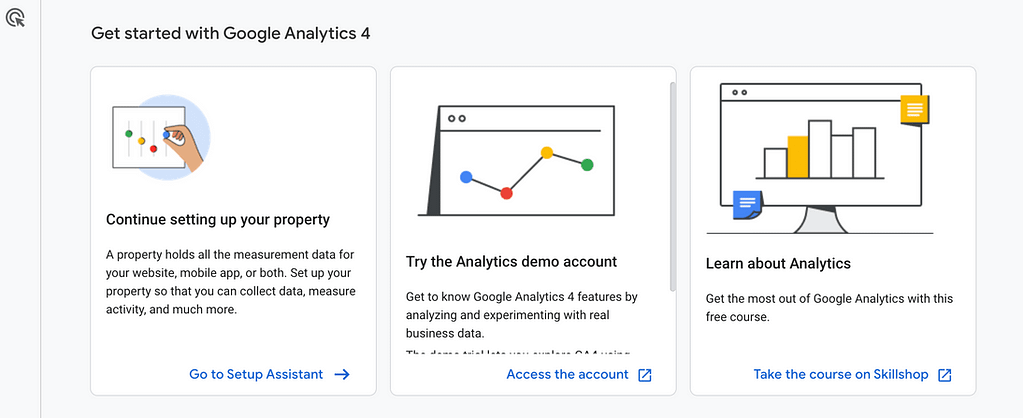 To implement Google Analytics 4, simply head to your Google Analytics dashboard. If you're not registered with GA, it's free to do so, but you'll need to do this first. Once you're in, if you scroll to the bottom of the Google Analytics dashboard, you'll see the following prompt pictured in the above image.
Click on 'Go to setup assistant'.
You'll then be taken to an interface, where you'll need to manually fill out some information about your website. This can take a few minutes, but it's necessary to connect your website with GA4's analytical tools. As soon as you've completed the setup including any verification checks, you'll be all set.
Here Is The Google Analytics 4 Demo Account In Action
Google handily has a GA4 demo account, which marketers such as ourselves here at Imaginaire can use to show you how it works, without having to reveal actual client data. GA4 is split into 3 main sections you'll find on the left hand toolbar. These include Reports, Explore and Advertising. Most people use Google Analytics for the reporting tool since it provides analytical data about your website.
Some of the data you can see on GA4 includes:
Users
New users
Users in the last 30 minutes
Average engagement time
Total revenue
Top countries for user locations
Source of website traffic (i.e. organic vs paid)
Top campaigns
Pages with the most views
It's possible to view tangible visual reports, and also generate these reports as documents to hand to clients, stakeholders and anyone else of interest.
Benefits Of Web Analytics Tools For Your Business
The simple fact is that it's impossible to make informed decisions about your website if you don't fully understand its performance.
Beyond the number of website visitors you have, you also need to be able to go deeper into these insights. This is so you can understand how people are finding your website, and if that traffic is even relevant in terms of the conversions generated.
So before undertaking any marketing activity such as web design, SEO, PPC or even social media marketing – keeping a sharp eye on your analytics is key.
Google Analytics 4 is one of the many tools you can use for the job. The advantage of opting for GA4 is that it's linked directly to the world's biggest search engine, which is where your customers head to when searching for your products and services.
Wait! I Still Don't Understand Google Analytics 4 – Can You Help Me?
'Don't worry' and 'Yes', are the answers here!
We know that there's a lot to wrap your head around when it comes to Google Analytics 4, both in terms of what it is, along with how to use it.
Ideally, your SEO agency should implement GA4 on your behalf and monitor the data regularly. That's because Google Analytics is a complicated tool to use, and the data it provides is also really important. If you don't know where to start, or simply lack the time to monitor your own Google Analytics 4 account, we're here to help.
To find out more about Imaginaire's SEO services (including Google Analytics 4!) please drop us a message, or give us a call on 0115 697 1367.