Page speed measures how long it takes for your pages to fully load on various devices such as desktops, mobiles and tablets.
Having a fast page speed matters, because just like you, your users don't want to hang around for ages waiting for a page to load up. The longer it takes, the more impatient we all become. The chances of people instantly leaving your website (bounce rate) increase sharply by the millisecond.
For more on bounce rate, read through our article here.
Common research suggests that if a page takes up to 5 seconds to load – the probability of the user exiting the page rate increases by 90%. The ideal page load time to aim for is 2.5 seconds or less. It's good to know that there are lots of elements within your website design which can slow down your page speed. But first, you need to know how long it's taking each of your pages to load and why.
So here is how to measure your page speed and keep track of your website's performance in 2023 and beyond.
Measuring Page Speed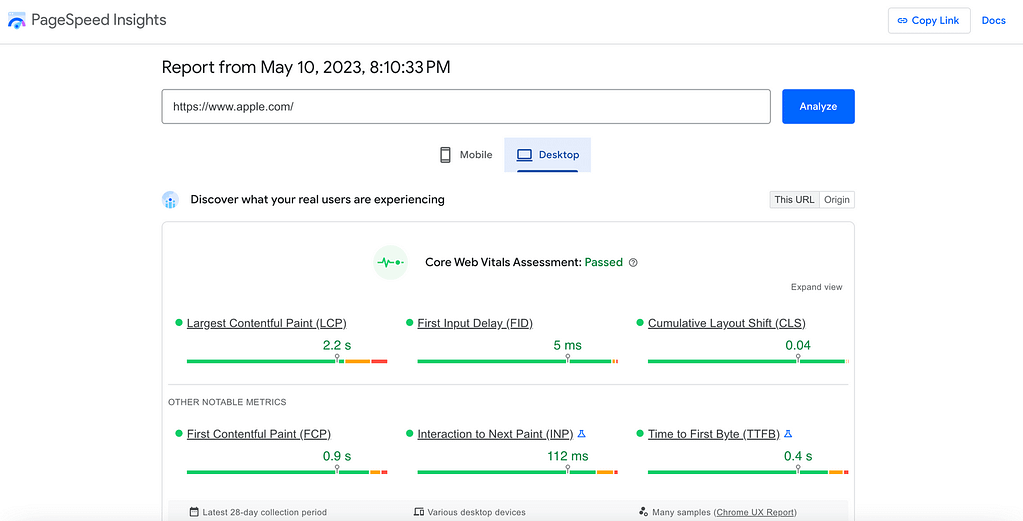 You can use a free tool such as Google PageSpeed Insights to check your page load times.
What's good about Google PageSpeed Insights is that it doesn't just give your desktop/mobile times as definite figures. Instead, it goes into detail about each element that makes up page speed as a whole.
This includes:
Largest contentful paint
First input delay
Cumulative layout shift
First contentful paint
Interaction to the next paint
Time to the first byte
Now, if you're reading this list thinking 'what on earth?' – Don't panic.
These terms simply relate to the different ways a page loads. For example, the largest contentful paint measures the time it takes to load the largest content on the screen in a way that's fully ready to use or interact with. Imagine any large HD images or glitchy plug-ins – such content would slow this particular metric down. Other ways of measuring, recording and tracking your page speed are through various SEO software.
Ahrefs and Semrush are two such tools which can be linked to your website. It's also possible to set up reports and alerts so that you'll be the first to know if your pages are running on the slow side.
What Affects Page Speed?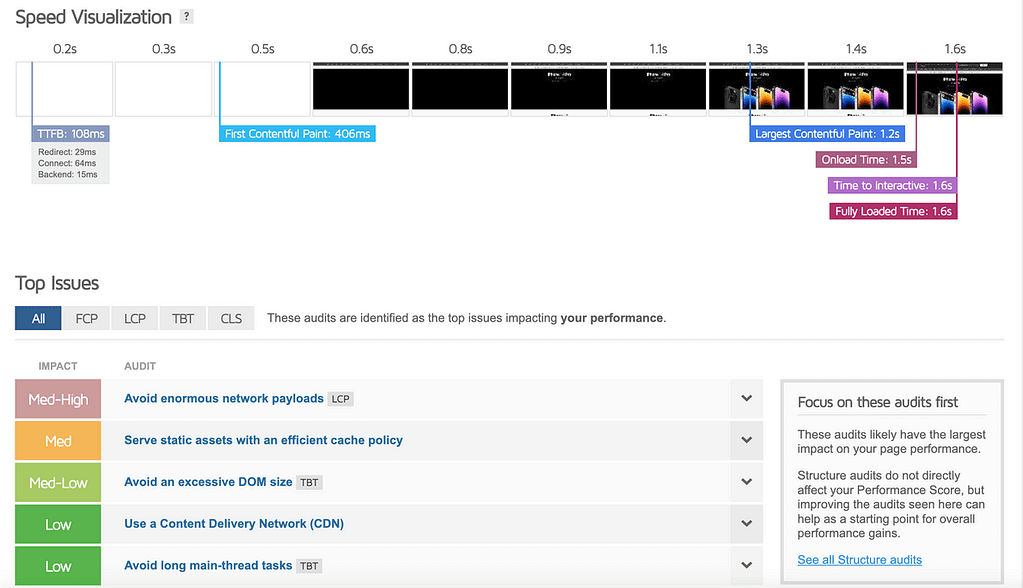 Every aspect of your website, website hosting and content has the potential to speed up or slow down your pages. It's not possible to list every reason in full, but here are some common reasons why your website may be slow to load:
Buggy website code
Glitchy/too many website plug-ins
Lack of a CDN (content delivery network)
Unreliable hosting
Overuse of images or large image files
Inefficient website design
Website pop-ups or ads on the page
Lack of mobile optimisation (responsiveness)
Poor website structure
The benefit of conducting website speed tests is that you can figure out which of these issues (or others) apply to your pages specifically. That way, you can implement the most impactful changes to fix your page speed.
How To Improve Page Speed
Sometimes it's super easy to speed up a page. For instance, by removing glitches within the code, or even removing a bothersome plug-in.
In other cases, the website itself is at fault, especially if it hasn't been designed and developed by a professional. Or, if it's been a while since your website was built, and now the technology it runs on is outdated.
Targeting the exact problem with the most appropriate fix is always the way to go about things. If you're not sure what either of these are, it's time to call in the experts. The work needs to be done sooner rather than later, since every time someone clicks on your website and gives up waiting – this equals lost custom for your business.
Over time, the speed of your pages across different devices needs to be regularly monitored. This can also help identify if recent changes have slowed your pages down for an easy fix.
Speed Up Your Website With Imaginaire Web Design & SEO Services
Are your slow-loading pages letting your website down?
Imaginaire is a marketing agency offering services such as web design, web development and SEO across the UK, including areas such as Derby, Leicester and Sheffield. So there are lots of ways we can help you here! 
We can work with you to identify why your website isn't as speedy as it should be. As experts, our solutions aim to provide long-term results to help businesses best connect with their customers. Having built many successful e-commerce websites and small business websites, we know a thing or two about what makes a good experience for your customers online. So let's chat!
Start the journey to a speedy website today by dropping us a message, or giving us a call on 0115 697 1367.