Google Analytics 4 officially launches on July 1st, 2023.
If you're yet to switch to GA4 or even set up Google Analytics for your website, you could be missing out on gaining invaluable data about your business. As a complex tool, there are lots to Google Analytics 4 that you might not realise can benefit your business.
One such feature is known as conversions. As the name suggests, conversions track all the activity on your website which leads to or directly results in sales.
Here is an overview of setting up conversions within Google Analytics 4. Alternatively, if you don't have an SEO agency keeping an eye on GA4 for you, Imaginaire may be able to help you.
What Are Conversions On Google Analytics 4?
Conversions (previously known as 'events') are used to report the most important actions taking place on your website. These are all viewable within your Google Analytics 4 interface.
Such actions can include the likes of:
Add to cart
App installs
Checkout
E-commerce transactions
Form submissions
Leads
Video views
You'll notice that, unlike general page views, conversions give you more insightful information about user behaviour. Namely, the amount of times users complete forms, click certain buttons and even add products to their cart.
GA4's conversion tool gives you the ability to track these metrics. You can then use the data to understand if your user experience, SEO and general marketing strategy are on point. This includes if some refinements may be needed, especially if intended actions (aka conversions) aren't being completed.
Setting Up Conversions On Google Analytics 4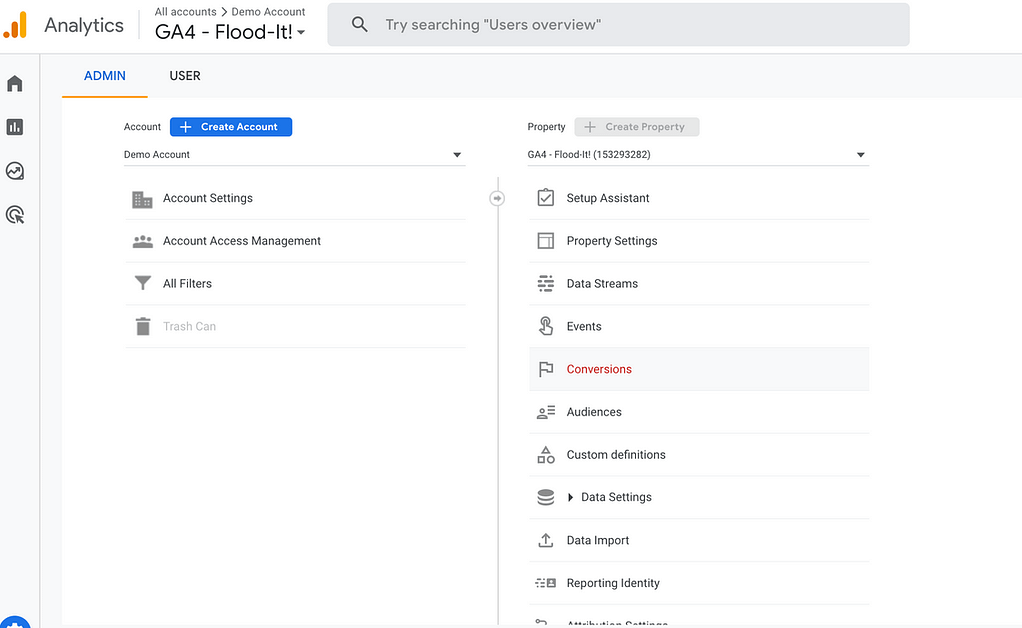 Make sure you have a GA4 account linked to your website, and that you're signed in.
Head to the Google Analytics 4 dashboard, and click on the cog in the bottom left-hand corner.
When you hover over this cog, it should say 'admin'.
Immediately, you'll see a list of actions appear. Click on 'events'.
A blue button will be displayed saying 'create event'. Click this and fill out details of your event such as the name, category, action and label.
Add details about the conversion values. Follow the instructions set by GA4 to allow conversion tracking for your new event through your website.
You should then see the event has been created and is starting to display data on the GA4 conversions dashboard. This info will be available under 'conversions'.
GA4 Conversions Feature Benefits
Better understanding of user behaviour on your website
Improved marketing and business direction decision making
Easier to make effective website optimisations
Track metrics which specifically relate to your goals
Incredibly insightful data provided
GA4 is also free!
Setting Up Conversions On Google Analytics 4 – SEO Agency Services
It's no understatement when we say that Google Analytics 4 is an extremely complicated tool to use – even for us experts!
So if you're reading this post as a website owner, and you want to maximise your SEO strategy, it's important you have GA4 conversions set up correctly. This is especially the case if you own an ecommerce website. This is where an SEO agency such as Imaginaire can help you, especially as part of a wider SEO strategy. As we also provide web design and other digital marketing services, we can put the data that GA4 conversions give us to best use.
To find out more please drop us a message, or give us a call on 0115 697 1367.